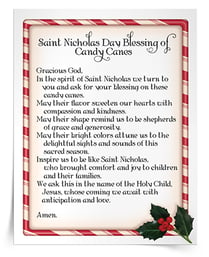 The candy cane is a treat often associated with Saint Nicholas, the patron and protector of children. The crook symbolizes the gentle image of Jesus, the Good Shepherd. Celebrate Saint Nicholas Day with a blessing and sharing of candy canes!
Fill out the form to download Saint Nicholas Day Blessing of Candy Canes Prayer Card now.
Download available in English and Spanish.