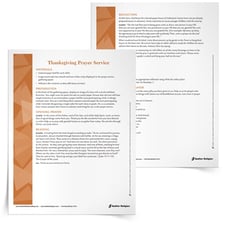 The Thanksgiving Prayer Service brings children of all ages together to remember that all good things come from God and guides children to thank God for the wonderful lives they have. The prayer service begins with an opening prayer and a reading from Scripture and includes a multi-age activity that combines art and prayer.
Fill out the form to download the Thanksgiving Prayer Service now.
Download available in English and Spanish.