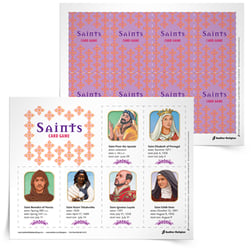 Celebrate the lives of the saints during Ordinary Time with a Saints Card Game Activity, for 2-6 players.
To make a set of playing cards: print the first four pages of the Saints Card Game Activity download twice. Use page five, the last page of the download, as the back for pages one through four. Then, cut out each card on the dashed line. Remove from the deck one of the Mary, Mother of God cards so that each saint in the deck has a matching pair, except for Mary, Mother of God. Shuffle the deck.
To play: Dealer shuffles and deals all cards to players so that no cards remain. Player discards any matching saint pairs face up. Players then take turns offering their hand facedown to the player seated left, who selects any card and adds it to hand, discarding any pairs formed. The game continues in this way until all pairs have been discarded except the last single and unmatchable card featuring Mary, Mother of God. The player holding this card wins; he or she holds the card of the greatest saint.
Fill out the form to download the Saints Card Game Activity now.
Download available in English and Spanish.