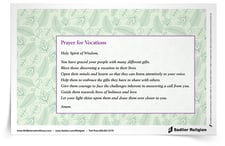 Our Baptismal call is towards lives of holiness and love. We live this out in various ways through a vocation that might entail ordination to the priesthood, religious, married, or single life, or a commitment to a particular ministry. Download a Prayer for Vocations Prayer Card and use it in your home, school, or parish to pray for those discerning a vocation.
Fill out the form to download A Prayer for Vocations Prayer Card now.
Download available in English and Spanish.