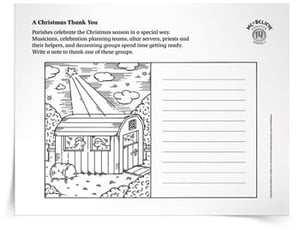 Students in the primary grades who are using the We Believe Catholic Identity Edition or Creemos will learn that Christmas is a season to give glory to God. One way to give glory to God is to express gratitude to those who help us. The children will learn that parishes celebrate the Christmas season in a special way. Musicians, celebration planning teams, altar servers, priests and their helpers, and decorating groups spend time getting ready. They prepare and practice.
In A Christmas Thank-You Activity, children will decorate and write a note to thank one of these groups within the parish to express gratitude for Christmas preparations.
Fill out the form to download the A Christmas Thank-You Activity now.
Download available in English and Spanish.