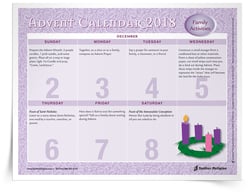 Help families share each day of the Advent season with a fun and simple suggestion for an action, prayer, or reflection.
This printable Advent calendar prepares families to celebrate the birth of Christ and anticipate his coming. Suggestions include the lighting of the candles in the Advent wreath and celebrating seasonal feast days.
Fill out the form to download the Family Advent Calendar now.
Download available in English and Spanish.