Sadlier and Renaissance are Working Together to Advance Learning
Sadlier and Renaissance® Star Math® provide a personalized learning path for each student with assessment-driven placement into the Sadlier Math or Progress in Mathematics core math programs. This seamless connection between Sadlier math solutions and Renaissance Star Math enables teachers to connect assessment data with instruction and practice. New for back-to-school 2020!
Learn more about our new partnership by completing the form on this page.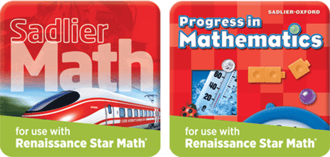 All logos, designs, and brand names for Renaissance products and services are trademarks of Renaissance Learning, Inc., and its subsidiaries, registered, common law, or pending registration in the United States. Used under license.